TRON (TRX) started the year on a low note but has picked up the pace since then. Even the past week saw the price soaring to new heights and pushing away the bear pressure for most of the week. The price of TRX coin has been swaying in the range between $0.0172 – $0.0213 over the past week.
TRON Price Analysis
TRX coin mostly traded with upward momentum over the last seven days. The price had been at $0.01966 on February 21. From this price point, the currency started upside movement and jumped to a high of 8.50% on February 24 at $0.0213. The bear pressure got stronger, and the price of TRON dropped to $0.0192 on February 24 by 9.63%. TRX price managed a recovery to the extent of 3.54% on the next day and reached $0.0199.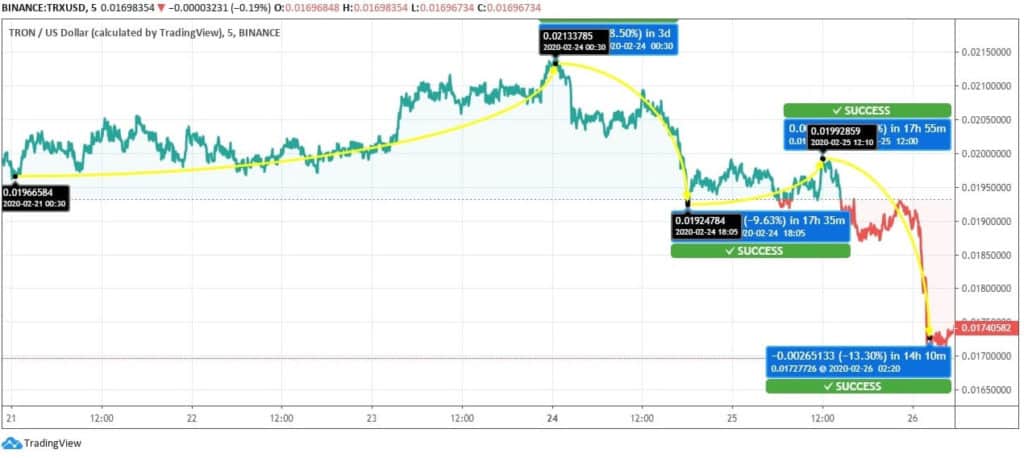 After breaching $0.0199, TRON continued to trade under strong bearish hold and moved down to $0.0172, showing a downward variation of 13.30%. The currency has managed to move up today and touched $0.0174. This shows the indication of the coin to move away from the bearish hold. The upcoming period will be crucial as the coin might consolidate around $0.0172 mark.
Analysts believe this to be a good turn for the coin as it had been too long in the bear shadow. They expect the coin to continue to put up a good performance during the year. Day traders can continue to make a kill though the bearish volatility is still visible in the crypto market.